We support the following marketplaces: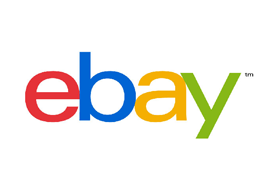 eBay
eBay is The World's Online Marketplace®, enabling trade on a local, national and international basis. With a diverse and passionate community of individuals and small businesses, eBay offers an online platform where millions of items are traded each day. Our application is certified by eBay. As we are a part of the eBay development program we meet and present to key stakeholders at eBay, including their Customers Service, Seller Development, and other eBay staff.OrderSystem is the first complete e-Commerce ERP solution that integrates your entire online sales process, simplifying and automating tasks such as inventory management, product listing and scheduling, sales order processing, payment and dispatch, customer communications and accounts posting, saving you time and money and leaving you free to concentrate on your business and your customers. With OrderSystem you can seamlessly scale up your operation, maximising sales opportunities across multiple channels such as eBay and Amazon.
eBay Webstore Design
We offer exclusive and professional eBay Webstore design. Using our vast experience in eBay template design, we can design your own eBay Webstore. Attractive, modern and innovative designing means that your Webstore will attract more customers, more sales and this all means more sales for you. Best of all, this service is included in our Ultimate package upon request.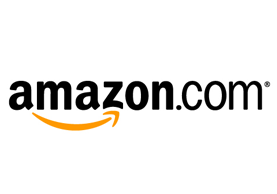 Amazon Marketplace
Amazon, a Fortune 500 company based in Seattle, Washington, is the global leader in e-commerce. Amazon offers everything from books and electronics to tennis rackets and diamond jewellery. Our application supports Amazon UK, USA, France and Germany for inventory and order management. Using our application you can take advantage of Amazon's global computing infrastructure, that is the backbone of Amazon.com's multi-billion retail business and transactional enterprise whose scalable, reliable, and secure distributed computing infrastructure has been honed for over a decade. This is because OrderSystem has a number of built in features which allow online selling on any global market. For example, currency conversion is built into OrderSystem.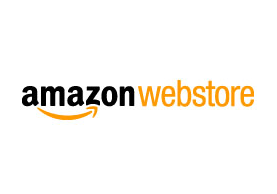 e-Commerce Website using Amazon Technology
Amazon WebStore is a ecommerce platform hosted by Amazon and powered by the same technology that powers Amazon.com. With Amazon WebStore, you can operate your online business in a secure, reliable and scalable environment and with minimal financial investment. Launching your Amazon WebStore is simple and inexpensive. There's no start-up cost, no hardware to buy, no maintenance fees and no long-term contract. We have dedicated design professionals and Amazon WebStore development experience. We can support integrations with Selling on Amazon, Fulfillment by Amazon and other marketplaces. We offer a quick turnaround time, a wide range of feature-rich plug-ins and a client-centric consultative approach. This is also included in our Ultimate package upon request.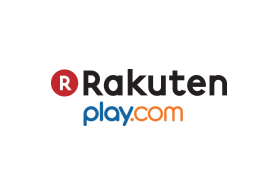 PlayTrade
Play Trade is the new online trading platform from Play.com. Becoming a Play Trader is easy and what's more, there are no listing or insertion fees! As a PlayTrade seller, your products will appear for sale on the Play.com web site, giving you the benefits that only the UK's largest entertainment online retailer can offer. Play.com will do all the advertising and merchandising, credit card processing and first-line customer care. All you need to do is decide on your price and send the products to the customers promptly.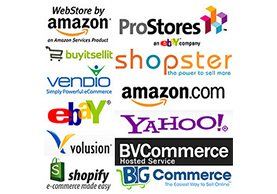 Integration beyond Imagination
OrderSystem offers Multichannel e-commerce. Amazon, eBay and play.com are just a few of the selling platforms that OrderSystem can synchronise with. Infact, OrderSystem will also integrate with your own webstore. By request, we will endeavour to integrate with any of your selling platforms that allow us to, within a matter of days. With one system to deal with all of your sales and no limit to the number of sales channels you can sell on, online selling couldn't be simpler.
All of your sales in one place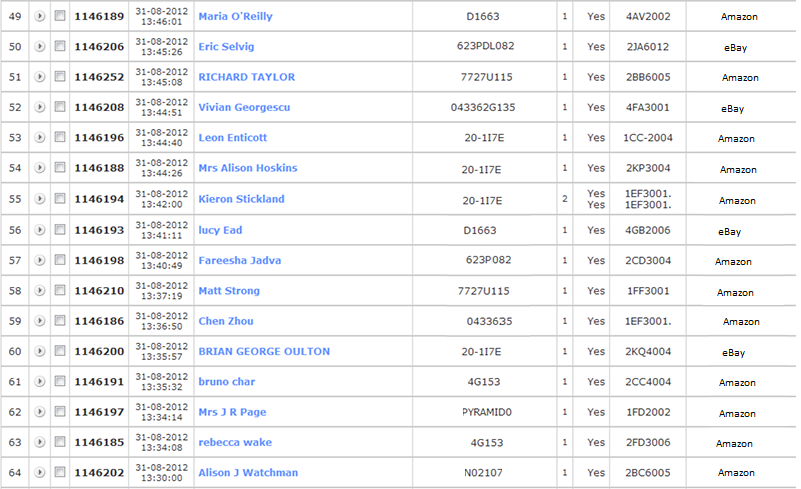 Nothing is forgotten
As well as support for a variety of selling platforms, OrderSystem is also fully functional at managing your sales across different selling accounts on the same platform. For example, seller accounts on amazon.co.uk and amazon.com can be fully integrated to manage your domestic sales, as well as your international ones all on one system. Sales on either of your selling platforms will have stock impacts across all of your listings, so that you never have to worry about overselling again. Orders are pulled every 15 minutes from all of your selling platforms, keeping you up to date and streamlining your dispatch time.